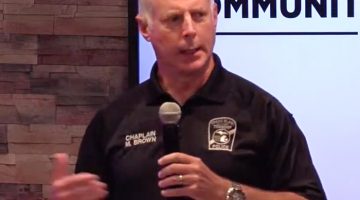 Regular Baptist Chaplaincy Director Manning Brown spoke at a 9/11 remembrance service.
The key to the success of any endeavor is training. And ministering as a chaplain is no different.
Regular Baptist chaplains attended a chaplaincy training module Monday prior to the Annual GARBC Conference.
"Honoring those who gave their lives for our freedoms today and for the generations to come is paramount," says Manning Brown.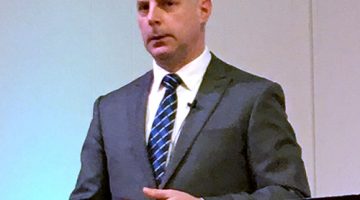 Manning Brown, Regular Baptist Chaplaincy director and endorser, spoke at Good News Baptist Church Jan. 10.
Every Nov. 11, our nation pauses to reflect upon and honor its own who have served in the Armed Forces. This year in particular, the day takes on special significance.
Wanting to show support for its village's police department, New Life Baptist Church provided a meal for each officer and staff member of the Lake in the Hills Police Department.
When a member of the Dowden family found a remarkable photo on the internet, that person presented the photo to Jack Dowden.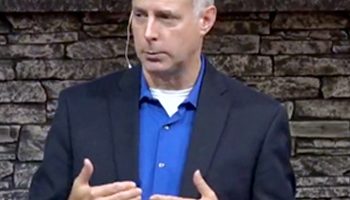 Regular Baptist Chaplaincy Director Manning Brown spoke at Emmanuel Baptist Church, Flint, Michigan.
Capt. Jeff Bartz, a chaplain with the 107th Attack Wing, New York Air National Guard, is activated to support the coronavirus response in New York.
First Baptist Church welcomed Director Manning Brown and his wife, Jennifer, to present Regular Baptist Chaplaincy.
Does celebrating Memorial Day with cookouts and with family and friends diminish anyone's sacrifice? Not at all, for it is because of their sacrifice we are free to celebrate.
A chaplaincy training module is scheduled to take place on Tuesday, June 25, from noon to 4:30 p.m. prior to the 2019 GARBC Conference in Des Moines, Iowa.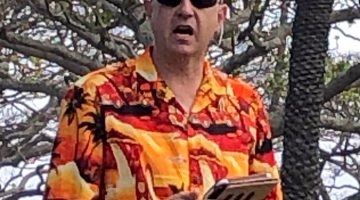 Regular Baptist Chaplaincy Director Manning Brown had the opportunity to visit Ch. (MAJ) Mark Worrell in Hawaii.
Chaplain David Murdochwas one of several chaplains recently recognized by the Westerville, Ohio, Division of Police for their outstanding service to the department.
To many, the greatest Christmas present this year will be a chaplain's presence.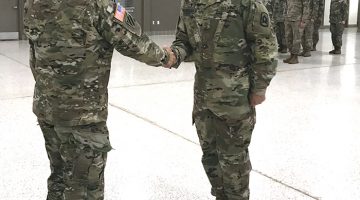 GARBC chaplain Peter Klotzbach was promoted to the rank of major.
GARBC chaplains CPT Derek Mosher and CPT Jonathan Court graduated from the Army Chaplain Captain Career Course at Fort Jackson, South Carolina.
The next time you see a veteran, do say thank you. But carry that gratitude even further by living your life with a thankful heart.
This summer brought several weeks of travel for Regular Baptist Chaplaincy director and endorser Manning Brown and his wife, Jennifer.
Even the smallest or simplest tasks can be connected to the greater mission of sharing the gospel.
Military spouses are like Velcro—often having to rip themselves away from their communities and form bonds in a new one. Quickly connecting with new friends is essential to life as a military spouse.
Memorial Day is solemn, and rightly so. But within the solemnity lies the joy of being blessed to live in a country where freedom still reigns.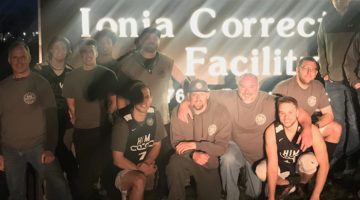 A group of men gathered at the Ionia Correctional Facility for a prison outreach event that included sharing the gospel and playing basketball.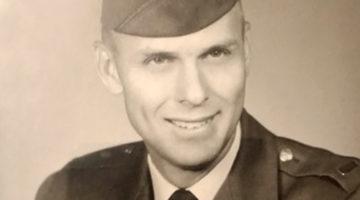 GIG HARBOR, Wash.—Harold Hayes, retired pastor, GARBC chaplain, and recipient of an honorary doctorate from Corban University, died April 9. He was 89. Harold was …
U.S. Army Chaplain Mark Worrell was promoted to the rank of major during a ceremony at Joint Base Myer-Henderson Hall, Virginia.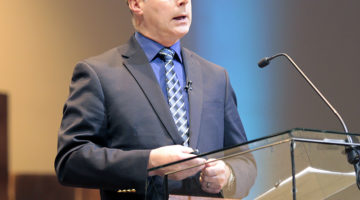 Manning Brown of Regular Baptist Chaplaincy recently visited Grace Baptist Church, Batavia, N.Y., whose pastor and associate pastor are both chaplains.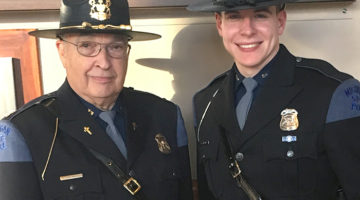 David Hill, a GARBC chaplain, gave the invocation and benediction for the 133rd Trooper Recruit School graduation ceremony of the Michigan State Police held in Lansing Nov. 30.
This holiday season, remember all our chaplains as they minister on the front lines, in a squad car, or at a bedside. Also remember the men and women who are at this moment away from home, protecting our freedoms and liberties.
GARBC chaplain CPT Mark Worrell, and his wife, Shelly, had the unique opportunity to attend a dinner for military servicemembers and their spouses, hosted by Vice President Mike Pence and Second Lady Karen Pence.
The River Church wrapped up its prison ministry for the season in late September after reaching more than 40,000 inmates in a total of 21 prisons in Ohio and Michigan.
Ch. (Col) John Murdoch, retired director and endorser of Regular Baptist Chaplaincy, was named deputy chief of chaplains for the Civil Air Patrol.
Patrick Ireland, a chaplain with Regular Baptist Chaplaincy, was promoted to the rank of major.
Ch. (CPT) Peter Klotzbach of the Florida National Guard conducted a chapel service with soldiers while deployed in St. Petersburg, Florida, in support of recovery operations in the aftermath of Hurricane Irma.
Iowa Regular Baptist Camp welcomed Chaplain Manning Brown, director of Regular Baptist Chaplaincy, and his wife, Jennifer, during a seniors retreat in August.
Our nation is blessed in so many ways, and on Memorial Day, we remember the blessings that have come through sacrifice, protecting us from oppression and giving us freedom.
Manning Brown, director of Regular Baptist Chaplaincy, spoke during chapel at Clarks Summit University.
Ch. (CMDR) Bill Gasser retired from the United States Navy Reserve after 43 years of service.
Ch. Pam Russell received Indiana's highest award for any Hoosier, the "Sagamore of the Wabash."
Among the 15,000 service members involved in the 58th Inauguration of the President of the United States was CH (CPT) Mark Worrell.
The saying goes, "It is better to give than to receive." Perhaps no better examples of giving are chaplains.

Chaplain Jack Stumme was promoted to the rank of colonel during a ceremony held at the Pentagon in Washington, D.C.
Emmanuel Baptist Church, Flint, Michigan, highlighted the ministry of Regular Baptist Chaplaincy during its missions conference.
Army R.O.T.C. cadets take a break from Cadet Summer Training to attend chapel services at Fort Knox, Kentucky. Roughly 10,000 cadets, supported by nearly 5,000 …

Chaplaincy is not an end it itself. It's only the beginning of a much broader ministry than one might have imagined.
Nearly 20 chaplains attended training sessions on stress management Tuesday, prior to the start of the GARBC Conference in Oswego, Illinois.
Manning Brown, director of Regular Baptist Chaplaincy, spoke during the morning service at CrossRoad Baptist Church, Ames, Iowa.
GARBC Chaplain (CPT) Patrick Ireland baptized Army private Hayden Brewer during a chapel service Jan. 31. Prior to his baptism, Brewer shared his testimony with …
Earlier this month I had the opportunity to attend annual training in the Washington, D.C., area. The training, which is required for all ecclesiastical endorsing …
Every Christmas brings with it the reflection, and in many cases the nostalgia, of Christmases past.
Manning Brown, director of Regular Baptist Chaplaincy, spoke during a multi-church Thanksgiving service hosted by Berea (Ohio) Baptist Church on Nov. 24. Brown gave historical …
Manning Brown, director of Regular Baptist Chaplaincy, spoke during Byron (Michigan) Baptist Church's Veterans Day service Nov. 15.
A simple "thank you" gave one veteran and his family, perhaps, some justification, some rationale for the time being separated, the worry and the not knowing.
GARBC Chaplain (CPT) Ryan Schildroth leads an early morning invocation with U.S. Army paratroopers assigned to the 112th Signal Battalion, Fort Bragg, North Carolina, prior …
Chaplain John Jensen talks with a solider while deployed to Southwest Asia. He is one of three GARBC chaplains currently deployed in support of U.S. …
Nearly a month into being the new director of Regular Baptist Chaplaincy Ministries, I am already seeing firsthand the incredible and important ministry our chaplains are carrying out.