Laird Baldwin, a chaplain with the New Lebanon Police Department,  attended the Montgomery County Law Enforcement Memorial in Dayton, Ohio.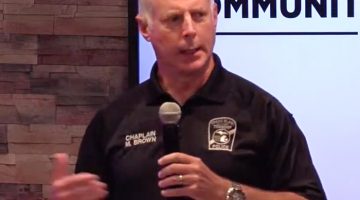 Regular Baptist Chaplaincy Director Manning Brown spoke at a 9/11 remembrance service.
Wanting to show support for its village's police department, New Life Baptist Church provided a meal for each officer and staff member of the Lake in the Hills Police Department.
When a member of the Dowden family found a remarkable photo on the internet, that person presented the photo to Jack Dowden.
When the coronavirus began rapidly spreading through the US, Chaplain Don Shirk found his ministry rapidly changing.
Chaplain David Murdochwas one of several chaplains recently recognized by the Westerville, Ohio, Division of Police for their outstanding service to the department.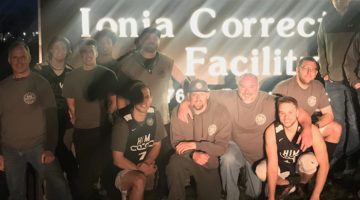 A group of men gathered at the Ionia Correctional Facility for a prison outreach event that included sharing the gospel and playing basketball.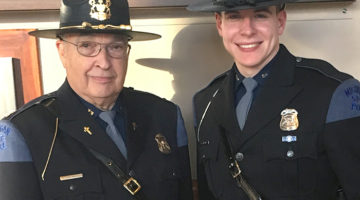 David Hill, a GARBC chaplain, gave the invocation and benediction for the 133rd Trooper Recruit School graduation ceremony of the Michigan State Police held in Lansing Nov. 30.
The River Church wrapped up its prison ministry for the season in late September after reaching more than 40,000 inmates in a total of 21 prisons in Ohio and Michigan.
For Sidney Capillas, hospice chaplaincy is an open door to share the genuine encouragement of the gospel.
A police chaplain in Indiana ministers to his community after 10 tornadoes touch down in a single day.

Chaplaincy is not an end it itself. It's only the beginning of a much broader ministry than one might have imagined.
David Hill has been a police chaplain for 21 years. Police chaplaincy, he says, is a ministry of expecting the unexpected.
The PrimeTimers of Bible Baptist Church, Kokomo, Ind., express their gratitude and God's love to the civil servants who help keep the community safe.
Shortly after accepting the call to become the pastor of Ensley Baptist Church, Sand Lake, Mich., in the fall of 2012, Timothy Decker made application …
In 2003 Matt Barnes walked into the Capitol building in Indianapolis, sure of a burden from God to reach the legislators of Indiana, but unsure …
BROOKVILLE, Ohio—Entering Bible Baptist Fellowship on Sept. 9, someone might have wondered who got shot. Uniformed police officers from six law enforcement agencies were there …
In the Ukraine, many older orphans become lost to crime, sex trades, or suicide. But there is hope, says Last Bell Ministries—hope in Christ Jesus. …
Thirty-six people from New York, Indiana, Illinois, and Canada gathered at Bible Baptist Church, Kokomo, Ind., for the annual Almond Tree Ministry training weekend on …
The newest Regular Baptist lay chaplain is Lt. Craig Duck of the Washington DC Fire Department. Craig is the Lieutenant of Engine Company 11 and …
One hundred fifty messengers representing 22 partnering associations from 10 countries recently converged in Bangkok, Thailand, for the first biennial conference of the International Partnership of …
Over the weekend of 29-30 Aug 09 Chaplain John Murdoch ministered at the Sovereign Grace Baptist Church Modesto, CA and the Crossroads Baptist Church of …
"Ye shall know the truth, and the truth shall make you free. . . . If the Son therefore shall make you free, ye shall …