The Lord is still in control, and nothing—including the fall of Afghanistan—happens without His permission.
Capt. Brad Kelsey, an Air Force chaplain, returned June 15 from a deployment to Southwest Asia.
Chaplain Brandon Crawford says "his ministry to hospice patients and their families went through major upheavals" the past few months.
When the coronavirus began rapidly spreading through the US, Chaplain Don Shirk found his ministry rapidly changing.
At Wheeler Army Airfield, chaplaincy looks a bit different these days for Maj. Mark Worrell.
"Doors. That's what comes to mind when I consider my work and the impact of COVID-19," says Chaplain Sidney Capillas.
In response to short-notice mobilization orders, several members of the 944th Aeromedical Staging Squadron, where Chaplain David Kreis ministers, deployed to aid in the COVID-19 response in New York City and surrounding states.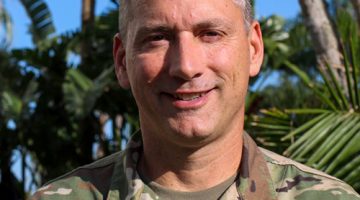 In any military environment, be it real-world or training, you're unlikely to find a more approachable figure than the unit chaplain. However, as Chaplain Peter Klotzbach points out: That's the point.
During the past couple of weeks, some of our chaplains who serve in the National Guard and Reserves have been activated to minister to soldiers and airmen as they assist state and federal response.
Regular Baptist Chaplaincy has endorsed Greg Landers, pastor of First Baptist Church, as a chaplain with the Civil Air Patrol.
Col. John Murdoch has been named chief of the Civil Air Patrol Chaplain Corps.
Richard Allen Goldsmith, a chaplain endorsed by Regular Baptist Chaplaincy, died Aug. 8. He was 80. 
Speaking from a platform in the Indiana Statehouse, Regular Baptist Chaplain Pam Russell welcomed more than 150 women to Women's Statehouse Day to pray for—and with—their state legislators.
When the phone rings at 2:45 a.m., you know it's something momentous. When you're chaplain of your local police department, you know it's bad news.
Margelia L. McClure, wife of retired pastor and chaplain Dr. Daniel McClure, died early Friday morning, Oct. 7. She was 69.
For Sidney Capillas, hospice chaplaincy is an open door to share the genuine encouragement of the gospel.
A police chaplain in Indiana ministers to his community after 10 tornadoes touch down in a single day.
David Hill has been a police chaplain for 21 years. Police chaplaincy, he says, is a ministry of expecting the unexpected.
At Orlando Regional Medical Center, patients and their families would be blessed to meet Chaplain Robert Leavitt. As a trauma chaplain, he attempts to bring order and comfort during crises.
At Fort Jackson, each chaplain has the opportunity to preach in chapel. Chaplain Mark Worrell challenged his classmates and instructors to "choose wisely who they obey, then trust in God for the results."
"There is always something happening in the 112th," says Army Chaplain Ryan Schildroth, referring to the Army's 112th Signal Battalion.
Chaplain Brad Kelsey spent 24 hours with a joint team of firefighters, consisting of Air Force, Army, and civilian personnel, at the McChord Field (Washington) fight line.
The Sunday before Veterans Day is an opportunity to honor the veterans in our churches. If you are looking for an appropriate video to add to your service, consider this one.