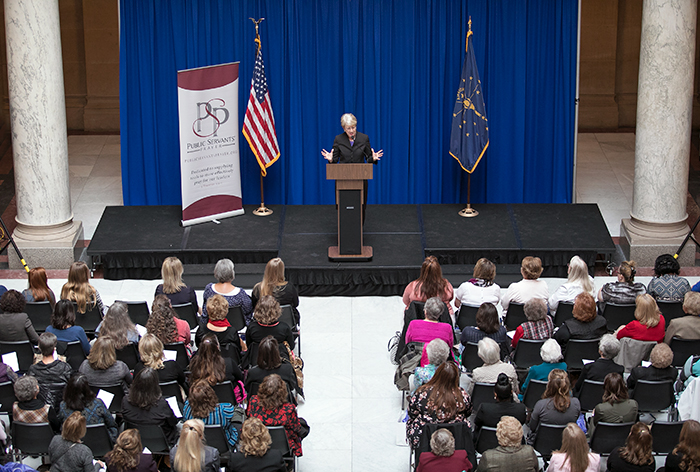 INDIANAPOLIS—Speaking from a platform in the Indiana Statehouse, Regular Baptist Chaplain Pam Russell welcomed more than 150 women to Women's Statehouse Day Feb. 28 to pray for—and with—their state legislators.
Pam, who organized Women's Statehouse Day with Matt Barnes, president of Public Servants' Prayer and a fellow chaplain, says the event is a day for Christian women to come from across the state to meet their elected officials and pray for them. "The goal is to change the perception of how Christians view leaders through prayer and encouragement," Pam says. Matt adds, "We want to see a movement of prayer in the political arena."
Public Servants' Prayer is dedicated to supplying tools to more effectively pray for leaders and takes its mission from 1 Timothy 2:1–4, where Paul exhorts Timothy to pray for "all who are in authority." PublicServantsPrayer.org provides an online prayer tool where people can sign up to receive the names of three of their federal and state leaders—along with their pictures, birthdays, and other information—to pray for each day or each week. Legislators from all 50 states are included.
Matt started Public Servants' Prayer at the Indiana Statehouse in 2004 and founded Pastors' Statehouse Day in 2009. Wanting to provide the same annual prayer opportunity for Christian women in Indiana, Pam started Women's Statehouse Day in 2014. "I was impressed by Scripture where God tells the prophet in Jeremiah 9 to call the women in the capital city of Jerusalem to pray for their nation and their nation's leadership," Pam says.
Pam, author of Beyond the Ballot, explains that women can have a great impact on their state, county, and local government through prayer and face-to-face encouragement with their elected representatives.
At Women's Statehouse Day, Indiana Lt. Gov. Suzanne Crouch greeted the women and thanked them for upholding her and Gov. Eric Holcomb in prayer. Commissioner Angela Weber followed, reading Psalm 46.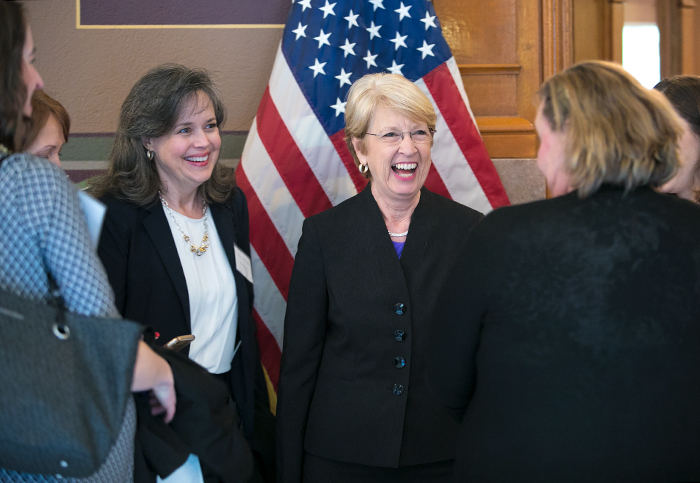 Next the women heard from Peggy Welch, chief advocacy officer of the Indiana Family and Social Services Administration; Tera Klutz, state auditor; and Kelly Mitchell, state treasurer. They talked about how God directed them into state government and expressed their thankfulness for the Christians in their lives who were praying for them. Specifically, Peggy spoke about the value of the ministry of Public Servants' Prayer among Indiana's elected leaders and in her own life, and Tera asked the audience to pray for their families and to pray that God would give her and her colleagues wisdom to do their jobs.
After the three women spoke, the audience participated in a half-hour prayer service led by 11 people from both sides of the political aisle. Senators, representatives, members of the judiciary, chaplains, and spouses of elected leaders took turns praying for public servants in the three branches of state government, as well as for lobbyists, military personnel, and the media. The service ended with music by Shawna Girgis, mayor of Bedford, Indiana.
A catered lunch followed the service, with the women eating alongside their own state representatives. The women had been encouraged to contact their legislators ahead of time to let them know they would be attending, but often "the ladies are frightened" to make that contact, Pam says. "But it's the highlight of the day for the legislators," Matt adds. "If they're contacted by someone from their district, they're going to drop other stuff to be there today and meet them."
Pam says that after attending Women's Statehouse Day, the women always say things like "We see our leaders now as real people." And legislators, including Rep. Sally Siegrist of Lafayette, House District 26, say that Women's Statehouse Day is encouraging because they realize how many people are praying for them.
Public Servants' Prayer provided gifts for all 150 legislators, as well as everyone who attended Women's Statehouse Day. Each attendee received a limited edition print by a Hoosier female artist; the print featured the Indiana Statehouse, a purple gladiolus, and the text of Esther 4:14, from which the day's event got its theme—"For Such a Time as This." Each legislator received a personalized coffee mug featuring the state seal and his or her name. These gifts are always treasures: the prints often become framed, and the mugs are frequently seen in use on the House Chamber floor.
Matt says Indiana legislators are accustomed to receiving gifts, but not from people who aren't seeking favors in return. "Gifts in the statehouse are common and they come with strings attached," he says. Matt describes one legislator as dumbfounded when a constituent said he didn't want anything in return for his gift. Matt says, "Sen. Dennis Kruse says we are the only entity in the statehouse that doesn't want anything from him."
Pam and Matt's prayer is that Women's Statehouse Day will ignite a movement of prayer by citizens for elected officials across the nation, and Pam and Matt believe that women may have a special advantage to make that happen. In Indiana, five out of seven elected officials are women. "And if you go around the country into courthouses and city halls," Matt says, "the overwhelming majority of elected officials and support staff are women—even in this building."
The Women's Statehouse Day program is the first of its kind. "We are leading the effort," Pam says. "I see it having great potential to grow in other states. It's just not been done before." Matt adds, "Pam is establishing a model and a template to be exported."
To keep the prayer momentum going, Public Servants' Prayer gave away poster-size prints with the names and photos of all of the Indiana legislators as a reminder for the women to pray daily for their politicians. The physical reminder is a welcome element for the attending women, many who have been using the ministry's online prayer tool for several years. "These women just want to give the love of Jesus through prayer and encouragement. They are upholding their public servants in prayer every day," Pam says. "They are a silent army."
Pam and Matt believe that each woman can go home and have an immediate impact right where she lives. Matt says, "Women need to go into their county courthouses and city halls and just say to their elected officials, 'Thank you for serving. How can I pray for you?'"