During the past couple of weeks, some of our chaplains who serve in the National Guard and Reserves have been activated to minister to soldiers and airmen as they assist state and federal response.
Ch. (CPT) Peter Klotzbach of the Florida National Guard conducted a chapel service with soldiers while deployed in St. Petersburg, Florida, in support of recovery operations in the aftermath of Hurricane Irma.
Chaplain John Murdoch attended the FBFA Annual Conference in July and enjoyed a wonderful week of praise to and worship of our Lord and Savior Jesus Christ.
Approximately 35 people filtered into the Harborview room of the Hilton Bayfront Hotel Wednesday, June 25, to hear chaplains expand on the ministry report they …
The annual Corps Vets reception is a time to thank veterans for their service and to give them an opportunity to fellowship with Regular Baptist …
Nine chaplains joined Chaplain John Murdoch, director of Regular Baptist Chaplaincy Ministries, Wednesday morning, June 25, to give a brief report following the general session …
Congratulations to Chaplain David Boyles, who graduated this spring from the Chaplain Basic Officer Leadership Course at Fort Jackson, S.C. David received his MDiv degree …
Shortly after accepting the call to become the pastor of Ensley Baptist Church, Sand Lake, Mich., in the fall of 2012, Timothy Decker made application …
Indiana pastors were invited to the State House in Indianapolis on Feb. 18 to be part of a Pastors' Day. Chaplain Matt Barnes has organized …
You're an armed forces service member from a GARBC church. During a personal conversation, you speak up for traditional marriage. Later you're threatened and denied …
The first role of the military chaplain is that of pastor, which is why the Department of Defense requires pastoral experience before it will commission …
In 2003 Matt Barnes walked into the Capitol building in Indianapolis, sure of a burden from God to reach the legislators of Indiana, but unsure …
Last month a group of homeschoolers from New York took a field trip to the VA Medical Center in Bath, N.Y., where Chaplain Jerry Hamblin …
This month we pause to say thank you to the thousands of veterans who live and work among us, full of memories of their years …
Congratulations to Civil Air Patrol Chaplain George Guyer III, who was promoted this spring to the rank of lieutenant colonel. Guyer has been a chaplain …
Chaplain Tom Phelan Sr. retired in July from the Kansas Department of Corrections after 20 years of service as a clinical chaplain.  Tom received the …
Ten mile march with full gear? No problem. Night infiltration course? Bring it on. Scaling a 34-foot obstacle? Watch how I do it. You can …
This weekend a grateful nation takes time to remember and give thanks for the sacrifice our men and women in uniform have made for us …
On a cool Friday just before Palm Sunday, Chaplain John Murdoch was walking through a quiet neighborhood in South Bend, Ind. It is a close-knit …
At Fort Bragg in North Carolina, Jeremiah Cates, a chaplain with Regular Baptist Chaplaincy Ministries, is ministering to a unique band of soldiers. He recently …
Congratulations to Maj. Randy Curry on his graduation from the U.S. Army Chaplain Center and School, where he completed the Chaplain Captain Career Course and …
Congratulations to Chaplain Ken Alford on his promotion to lieutenant colonel! When Chaplain Ken Alford deployed with the 364th Expeditionary Sustainment Command in July 2011, …
Over the weekend of Nov. 11, communities, churches, and civic organizations across our nation will host ceremonies honoring those who have served in the United …
God has allowed Chaplain Jerry Hamblin to have two strong avenues of service interwoven in his life's ministry for God and country, and on Sept. …
Eleven years ago Americans watched in horror and disbelief as airplanes crashed into the World Trade Center, the Pentagon, and a field in Shanksville, Pa., …
Pastor Scott Conner, assistant pastor of West Pines Baptist Church, Greenacres, Fla., is now also a chaplain with the United States Air Force Reserve. Scott …
Maj. Wayne Keast has retired from service as an active duty U.S. Army chaplain effective July 1. Chaplain Keast came to the Regular Baptist Chaplaincy …
Col. Thomas W. Phelan has retired after 28 years of chaplaincy with the United States Army Reserve. A retirement ceremony was held Dec. 9 at …
Over the weekend of 29-30 Aug 09 Chaplain John Murdoch ministered at the Sovereign Grace Baptist Church Modesto, CA and the Crossroads Baptist Church of …
On behalf of the GARBC, we want to thank all of our Veterans and current Active Duty, Reserve, and National Guard members of every Branch …
On 17-18 Sept 09 Baptist Bible Seminary held its annual Chaplaincy Awareness days in order to bring in front of the College, Graduate School and …
The annual National Boards and Conference of the United States Air Force Auxiliary Civil Air Patrol was held in San Antonio, Texas 2-5 Sept 09. …
On 31 October the twenty-seven year active duty military career of Chaplain (COL) & Mrs. James E. May concluded as Ch May retired from the …
Left to right: CH (CPT) Mike Crawford, TSGT Jacob Getzelman, Senator Daryl Beall, MAJ Todd Essign (Battalion XO), CH (COL) John Murdoch, CAP On 28 …
Commander Tom Webber, CHC, USN is assigned to the 8th District Coast Guard and is stationed in New Orleans, LA. He writes: "Southern LA evacuated …
On 29 September 2008 the United States Air Force Auxiliary, Civil Air Patrol, announced that Chaplain Whit Woodard was named the new Chief of the …
Chaplain (1LT) Mark Worrell graduated from the Army Chaplain School located at Fort Jackson in Columbia, South Carolina on Thursday 4 September 2008.  Mark is …
Christopher and Amanda Anderson Chris Anderson has received his commission as a chaplain with the US Army Reserves and has been assigned to a reserve …
On December 5th, 2007, eight people were killed in shootings by a young gunman at the Von Maur clothing store in Omaha, NE. Six others …
Cortland, N.Y.—Chaplain Norm Stitzel, a GARBC endorsed lay chaplain and member of Faith Baptist Church of Cortland, New York, received the Meritorious Service Award this …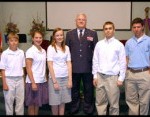 Students at Calvary Christian Academy, Cresaptown, Md., have gathered in an early morning assembly to remember the events of September 11, 2001 and to pray …
Chaplain John and Hope Murdoch recently completed an endorsing visit to Colorado, connecting with GARBC Chaplain Johnson and his family. Chaplain Johnson, who recently returned …
Chaplain Jerry Hamblin, CHC, USNR, was assigned for six weeks last fall to the Abraham Lincoln CVN 72 in Bremerton, Washington. The Abraham Lincoln had …
by Pastor Stan Lightfoot III Rustic Hills Baptist Church, Colorado Springs, Colorado Sunday November 12 was "Welcome Home Sunday" at Rustic Hills Baptist Church. We …
On September 21 & 22 Baptist Bible College and Seminary hosted its second annual chaplaincy emphasis weekend. Chaplains, recruiters and endorsers were invited to spend …
Ft. Bliss, TX, has the distinction of being one of the Army's main mobilization centers for reservists. No doubt some of the reservists you have …
It was great to see some of you last month in Lansing!! We always appreciate the opportunity to visit with you, and our chaplains are …