Manning Brown, director of Regular Baptist Chaplaincy, participated in a podcast hosted by Isaac Walsh, founder of the Spiritual Warfare Unit ministry.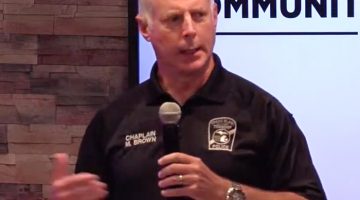 Regular Baptist Chaplaincy Director Manning Brown spoke at a 9/11 remembrance service.
Every Nov. 11, our nation pauses to reflect upon and honor its own who have served in the Armed Forces. This year in particular, the day takes on special significance.
Does celebrating Memorial Day with cookouts and with family and friends diminish anyone's sacrifice? Not at all, for it is because of their sacrifice we are free to celebrate.
To many, the greatest Christmas present this year will be a chaplain's presence.
The next time you see a veteran, do say thank you. But carry that gratitude even further by living your life with a thankful heart.
This summer brought several weeks of travel for Regular Baptist Chaplaincy director and endorser Manning Brown and his wife, Jennifer.
Memorial Day is solemn, and rightly so. But within the solemnity lies the joy of being blessed to live in a country where freedom still reigns.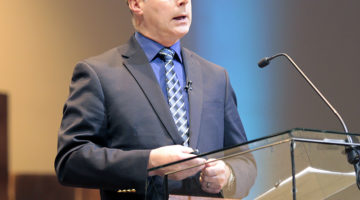 Manning Brown of Regular Baptist Chaplaincy recently visited Grace Baptist Church, Batavia, N.Y., whose pastor and associate pastor are both chaplains.
This holiday season, remember all our chaplains as they minister on the front lines, in a squad car, or at a bedside. Also remember the men and women who are at this moment away from home, protecting our freedoms and liberties.
Manning Brown, director of Regular Baptist Chaplaincy, spoke during chapel at Clarks Summit University.
Emmanuel Baptist Church, Flint, Michigan, highlighted the ministry of Regular Baptist Chaplaincy during its missions conference.
Manning Brown, director of Regular Baptist Chaplaincy, spoke during the morning service at CrossRoad Baptist Church, Ames, Iowa.
Earlier this month I had the opportunity to attend annual training in the Washington, D.C., area. The training, which is required for all ecclesiastical endorsing …
Every Christmas brings with it the reflection, and in many cases the nostalgia, of Christmases past.
A simple "thank you" gave one veteran and his family, perhaps, some justification, some rationale for the time being separated, the worry and the not knowing.
Nearly a month into being the new director of Regular Baptist Chaplaincy Ministries, I am already seeing firsthand the incredible and important ministry our chaplains are carrying out.
Memorial Day reminds us to pause in humble gratitude for the men and women of our military who have made the ultimate sacrifice, and to pray for their families who grieve their loss.
This Veterans Day, remember that your freedom to live your day-to-day life was preserved for you by the veterans who live, work, and worship with you.
The Sunday before Veterans Day is an opportunity to honor the veterans in our churches. If you are looking for an appropriate video to add to your service, consider this one.
This weekend for many is a break from the day-to-day hectic schedule and a chance to get to the lake or the camp site, or …
You're an armed forces service member from a GARBC church. During a personal conversation, you speak up for traditional marriage. Later you're threatened and denied …
This month we pause to say thank you to the thousands of veterans who live and work among us, full of memories of their years …
On a cool Friday just before Palm Sunday, Chaplain John Murdoch was walking through a quiet neighborhood in South Bend, Ind. It is a close-knit …