At Wheeler Army Airfield in Hawaii, Wheeler Chapel said farewell to Chaplain Mark Worrell as pastor.
When members of his unit returned from a five-month deployment, Capt. Jeff Bartz, an Air National Guard chaplain, was on hand to welcome them home.
Tim Raymond, pastor of Trinity Baptist Church, Muncie, Indiana, was commissioned a lieutenant in the United States Navy Reserve in a ceremony Nov. 1.
The key to the success of any endeavor is training. And ministering as a chaplain is no different.
The Lord is still in control, and nothing—including the fall of Afghanistan—happens without His permission.
Every Nov. 11, our nation pauses to reflect upon and honor its own who have served in the Armed Forces. This year in particular, the day takes on special significance.
When a member of the Dowden family found a remarkable photo on the internet, that person presented the photo to Jack Dowden.
Capt. Brad Kelsey, an Air Force chaplain, returned June 15 from a deployment to Southwest Asia.
Capt. Jeff Bartz, a chaplain with the 107th Attack Wing, New York Air National Guard, is activated to support the coronavirus response in New York.
At Wheeler Army Airfield, chaplaincy looks a bit different these days for Maj. Mark Worrell.
In response to short-notice mobilization orders, several members of the 944th Aeromedical Staging Squadron, where Chaplain David Kreis ministers, deployed to aid in the COVID-19 response in New York City and surrounding states.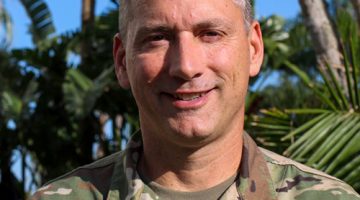 In any military environment, be it real-world or training, you're unlikely to find a more approachable figure than the unit chaplain. However, as Chaplain Peter Klotzbach points out: That's the point.
Regular Baptist Chaplaincy has endorsed Greg Landers, pastor of First Baptist Church, as a chaplain with the Civil Air Patrol.
Col. John Murdoch has been named chief of the Civil Air Patrol Chaplain Corps.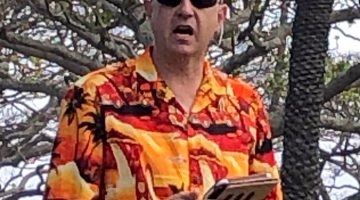 Regular Baptist Chaplaincy Director Manning Brown had the opportunity to visit Ch. (MAJ) Mark Worrell in Hawaii.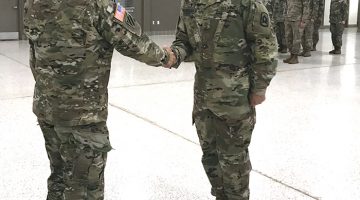 GARBC chaplain Peter Klotzbach was promoted to the rank of major.
Even the smallest or simplest tasks can be connected to the greater mission of sharing the gospel.
Military spouses are like Velcro—often having to rip themselves away from their communities and form bonds in a new one. Quickly connecting with new friends is essential to life as a military spouse.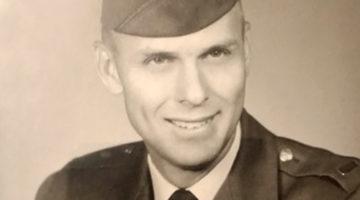 GIG HARBOR, Wash.—Harold Hayes, retired pastor, GARBC chaplain, and recipient of an honorary doctorate from Corban University, died April 9. He was 89. Harold was …
U.S. Army Chaplain Mark Worrell was promoted to the rank of major during a ceremony at Joint Base Myer-Henderson Hall, Virginia.
GARBC chaplain CPT Mark Worrell, and his wife, Shelly, had the unique opportunity to attend a dinner for military servicemembers and their spouses, hosted by Vice President Mike Pence and Second Lady Karen Pence.
Ch. (Col) John Murdoch, retired director and endorser of Regular Baptist Chaplaincy, was named deputy chief of chaplains for the Civil Air Patrol.
Patrick Ireland, a chaplain with Regular Baptist Chaplaincy, was promoted to the rank of major.
Ch. (CPT) Peter Klotzbach of the Florida National Guard conducted a chapel service with soldiers while deployed in St. Petersburg, Florida, in support of recovery operations in the aftermath of Hurricane Irma.
Army R.O.T.C. cadets take a break from Cadet Summer Training to attend chapel services at Fort Knox, Kentucky. Roughly 10,000 cadets, supported by nearly 5,000 …
At Fort Jackson, each chaplain has the opportunity to preach in chapel. Chaplain Mark Worrell challenged his classmates and instructors to "choose wisely who they obey, then trust in God for the results."
Chaplain John Murdoch had the joy of accompanying his neighbor Jim, a Korean War veteran, on an Honor Flight excursion to Washington, D.C., to honor his service on behalf of our country.
Soldiers and civilians gathered for an Easter sunrise service at Camp Buehring in Kuwait.
Chaplain Brad Kelsey completed five weeks of Air Force Squadron Officer School and found it to be one of the many blessings of the chaplaincy.
Congratulations to Chaplain Jack Schultz, who was named the 2015 Squadron Chaplain of the Year for the Indiana Wing of Civil Air Patrol.
Chaplain John Jensen has been deployed to serve as the chaplain at Camp Buehring in Kuwait.
Chaplain Jeremiah Cates has returned from his yearlong deployment to Afghanistan, thankful for the blessing it was to serve His Savior and his soldiers.
Chaplain Bill Gasser has completed his assignment in Afghanistan and is back home with great reports of God's work in that distant land.
HILLSBORO, Ind.—This summer Twin Lakes Camp endeavored to empower children and teenagers through daily missions-focused chapels, focusing on the camp's partnership with Col. John Murdoch, …
Congratulations to Chaplain David Boyles, who graduated this spring from the Chaplain Basic Officer Leadership Course at Fort Jackson, S.C. David received his MDiv degree …
Chaplain Bill Gasser is a Navy reservist endorsed by the Regular Baptist Chaplaincy Ministries. He is serving at Kandahar Airfield in southern Afghanistan on his …
Congratulations to Civil Air Patrol Chaplain George Guyer III, who was promoted this spring to the rank of lieutenant colonel. Guyer has been a chaplain …
Dr. Daniel A. McClure, a member of First Baptist Church, Yarmouth, Iowa, was appointed national chaplain for the American Legion during its 95th National Convention …
Chaplain Tom Phelan Sr. retired in July from the Kansas Department of Corrections after 20 years of service as a clinical chaplain.  Tom received the …
Ten mile march with full gear? No problem. Night infiltration course? Bring it on. Scaling a 34-foot obstacle? Watch how I do it. You can …
Congratulations to Chaplain Mark Worrell on his graduation from the U.S. Army Airborne School in Fort Benning, Ga.  Mark said, "That big step was up …
GARBC Chaplain Whit Woodard has been awarded the G. William Dando Volunteer Service award from the Military Chaplains Association in an annual presentation to honor …
At Fort Bragg in North Carolina, Jeremiah Cates, a chaplain with Regular Baptist Chaplaincy Ministries, is ministering to a unique band of soldiers. He recently …