Chaplain Brian Gibbons, deployed on the USS Rushmore, recently visited the port of Manado, Indonesia. But after the crew left, they quickly had to switch gears from compassion to rescue.
Memorial Day reminds us to pause in humble gratitude for the men and women of our military who have made the ultimate sacrifice, and to pray for their families who grieve their loss.
Chaplain John Murdoch had the joy of accompanying his neighbor Jim, a Korean War veteran, on an Honor Flight excursion to Washington, D.C., to honor his service on behalf of our country.
As part of the Capitol Commission, Pam Russell engages women at the Indiana statehouse, building relationships with them and often praying with them.
Soldiers and civilians gathered for an Easter sunrise service at Camp Buehring in Kuwait.
Chaplain Brad Kelsey completed five weeks of Air Force Squadron Officer School and found it to be one of the many blessings of the chaplaincy.
Congratulations to Chaplain Jack Schultz, who was named the 2015 Squadron Chaplain of the Year for the Indiana Wing of Civil Air Patrol.
Chaplain John Jensen has been deployed to serve as the chaplain at Camp Buehring in Kuwait.
Chaplain Jeremiah Cates has returned from his yearlong deployment to Afghanistan, thankful for the blessing it was to serve His Savior and his soldiers.
This Veterans Day, remember that your freedom to live your day-to-day life was preserved for you by the veterans who live, work, and worship with you.
Chaplain Bill Gasser has completed his assignment in Afghanistan and is back home with great reports of God's work in that distant land.
On this Patriot Day may we go to our knees to beseech God for His mercy, healing, and salvation of our land.
Chaplain Johnathan Court was sent to Fort McCoy, Wis., this past spring, for Warrior Exercise (WAREX), "three weeks of training in the field as if we were at war."
The PrimeTimers of Bible Baptist Church, Kokomo, Ind., express their gratitude and God's love to the civil servants who help keep the community safe.
Chaplain John Murdoch attended the FBFA Annual Conference in July and enjoyed a wonderful week of praise to and worship of our Lord and Savior Jesus Christ.
Congratulations to Chaplain David Boyles, who graduated this spring from the Chaplain Basic Officer Leadership Course at Fort Jackson, S.C. David received his MDiv degree …
This weekend for many is a break from the day-to-day hectic schedule and a chance to get to the lake or the camp site, or …
Chaplain Bill Gasser is a Navy reservist endorsed by the Regular Baptist Chaplaincy Ministries. He is serving at Kandahar Airfield in southern Afghanistan on his …
Shortly after accepting the call to become the pastor of Ensley Baptist Church, Sand Lake, Mich., in the fall of 2012, Timothy Decker made application …
Indiana pastors were invited to the State House in Indianapolis on Feb. 18 to be part of a Pastors' Day. Chaplain Matt Barnes has organized …
You're an armed forces service member from a GARBC church. During a personal conversation, you speak up for traditional marriage. Later you're threatened and denied …
The first role of the military chaplain is that of pastor, which is why the Department of Defense requires pastoral experience before it will commission …
In 2003 Matt Barnes walked into the Capitol building in Indianapolis, sure of a burden from God to reach the legislators of Indiana, but unsure …
Last month a group of homeschoolers from New York took a field trip to the VA Medical Center in Bath, N.Y., where Chaplain Jerry Hamblin …
This month we pause to say thank you to the thousands of veterans who live and work among us, full of memories of their years …
Congratulations to Civil Air Patrol Chaplain George Guyer III, who was promoted this spring to the rank of lieutenant colonel. Guyer has been a chaplain …
Dr. Daniel A. McClure, a member of First Baptist Church, Yarmouth, Iowa, was appointed national chaplain for the American Legion during its 95th National Convention …
Chaplain Tom Phelan Sr. retired in July from the Kansas Department of Corrections after 20 years of service as a clinical chaplain.  Tom received the …
Ten mile march with full gear? No problem. Night infiltration course? Bring it on. Scaling a 34-foot obstacle? Watch how I do it. You can …
Congratulations to Chaplain Mark Worrell on his graduation from the U.S. Army Airborne School in Fort Benning, Ga.  Mark said, "That big step was up …
GARBC Chaplain Whit Woodard has been awarded the G. William Dando Volunteer Service award from the Military Chaplains Association in an annual presentation to honor …
This weekend a grateful nation takes time to remember and give thanks for the sacrifice our men and women in uniform have made for us …
On a cool Friday just before Palm Sunday, Chaplain John Murdoch was walking through a quiet neighborhood in South Bend, Ind. It is a close-knit …
At Fort Bragg in North Carolina, Jeremiah Cates, a chaplain with Regular Baptist Chaplaincy Ministries, is ministering to a unique band of soldiers. He recently …
Congratulations to Maj. Randy Curry on his graduation from the U.S. Army Chaplain Center and School, where he completed the Chaplain Captain Career Course and …
Congratulations to Chaplain Ken Alford on his promotion to lieutenant colonel! When Chaplain Ken Alford deployed with the 364th Expeditionary Sustainment Command in July 2011, …
Lt. Col. Jack Stumme, a Regular Baptist chaplain, recently became the new command chaplain for the Army's 82nd Airborne Division. During the traditional Change of …
Over the weekend of Nov. 11, communities, churches, and civic organizations across our nation will host ceremonies honoring those who have served in the United …
ARLINGTON, Va.— It's Thursday, Sept. 27, and about 100 U.S. Army soldiers are seated in an auditorium at Fort Myer, listening to Chaplain Mark Worrell …
God has allowed Chaplain Jerry Hamblin to have two strong avenues of service interwoven in his life's ministry for God and country, and on Sept. …
BROOKVILLE, Ohio—Entering Bible Baptist Fellowship on Sept. 9, someone might have wondered who got shot. Uniformed police officers from six law enforcement agencies were there …
Eleven years ago Americans watched in horror and disbelief as airplanes crashed into the World Trade Center, the Pentagon, and a field in Shanksville, Pa., …
Pastor Scott Conner, assistant pastor of West Pines Baptist Church, Greenacres, Fla., is now also a chaplain with the United States Air Force Reserve. Scott …
Each year Regular Baptist chaplains gather before the GARBC Annual Conference for a day of fellowship and professional development. This is always a time of …
Maj. Wayne Keast has retired from service as an active duty U.S. Army chaplain effective July 1. Chaplain Keast came to the Regular Baptist Chaplaincy …
FORT JACKSON, S.C.—Calling Chaplain Stan Beach a "living legend," Chief of Navy Chaplains Mark Tidd led a dedication ceremony at the Naval Chaplaincy School and …
In his speech at Arlington National Cemetery on May 26, 2003, President George W. Bush said, "On Memorial Day, Americans place flags on military graves, …
In the Ukraine, many older orphans become lost to crime, sex trades, or suicide. But there is hope, says Last Bell Ministries—hope in Christ Jesus. …
Chaplain (Col.) Craig Wiley has retired from the U.S. Army after nearly 43 years of service. In 1969, with the United States in the midst …
Col. James Odell, a chaplain with the United States Army Reserves, has retired after nearly 29 years of service. A retirement ceremony was held on …
Congratulations to Chaplain Jack Stumme on his promotion to lieutenant colonel on Feb. 3. He has recently moved from XVIII Airborne Corps operations chaplain to …
Lt. Col. Michael Wood has retired from active duty after 26 years of service with the U.S. Army, first as a commander in the field …
Thomas Brian Webber, a U.S. Navy chaplain, has been promoted to the rank of captain. Rear Adm. Mike Tillotson, a commander with the Navy Expeditionary …
Last summer Shelly Worrell, wife of Chaplain Mark Worrell, decided to make bookmarks from old Christmas cards to send to deployed troops as a reminder …
Col. Thomas W. Phelan has retired after 28 years of chaplaincy with the United States Army Reserve. A retirement ceremony was held Dec. 9 at …
Thirty-six people from New York, Indiana, Illinois, and Canada gathered at Bible Baptist Church, Kokomo, Ind., for the annual Almond Tree Ministry training weekend on …
Today America takes time to remember and be grateful for the men and women who have served in the Armed Forces of the U.S. It …
As part of a weekend honoring military veterans, First Baptist Church, Fenton, Mich., held its second annual Military Vehicle Show. Pastor Joshua Gates invited Chaplain …
The long war in Iraq and Afghanistan and frequent deployments to the war zone have placed especially heavy pressure on military personnel and their families. …
Sept. 25 was more than a beautiful fall Sunday in central Pennsylvania. Calvary Baptist Church of Jersey Shore was walking through this Sunday with mixed …
The weekend had begun like so many ministry trip weekends. After ministering in Minnesota, Hope and I flew to the Philadelphia Airport and headed to …
After completing 23 years and three months of service, Chaplain (Col.) Istvan "Steve" Szasz retired from the Army Reserve on July 31. Chaplain Szasz was …
GARBC chaplains in the Washington, D.C., area have been meeting quarterly to pray for one another's ministry, encourage each other in the faith, and fellowship …
After completing a tour in Iraq with a cavalry unit from Fort Bliss, Texas, Army Chaplain Mark Worrell has a new assignment with a unit …
Haddon Heights Baptist Church, Haddon Heights, N.J., held a commissioning service for Pastor Derek Mosher on Dec. 12. Pastor Mosher has been accessed to the Army chaplaincy …
On a visit with Chaplain Jack Stumme at Ft. Bragg, N.C., Chaplain John Murdoch had the opportunity to participate in a tandem jump with the …
Chaplain (Colonel) Tom Phelan, a Regular Baptist chaplain, ministered to mobilized Soldiers of the Texas National Guard 72nd Infantry Brigade Combat Team as they deployed …
About two hours northwest of Chicago, between Madison and Milwaukee, lies a secluded, wooded retreat known as Cedarly. Directed by retired GARBC Chaplain Andy Hagen and …
FORT JACKSON, S.C.—Navy Chaplain Brian D. Gibbons was awarded the Captain Stanley J. Beach, CHC, USN Student Leadership Award, an honor given to the Navy …
"Have you ever had something that you were so devoted to that you would be willing to die for it?" Army Chaplain Dale Goetz did. …
The newest Regular Baptist lay chaplain is Lt. Craig Duck of the Washington DC Fire Department. Craig is the Lieutenant of Engine Company 11 and …
Chaplain Dan Butler retired from ministry with the Arizona National Guard after 24 years of service. Butler was the Joint Forces chaplain for the state of …
Chaplain John Murdoch had the honor of being the presiding official at the retirement ceremony and worship service for Chaplain Maj. Kevin G. Browne, USAF. The …
Ronald Faith, pastor of Evangel Baptist Church, Hagerstown, Md., is the Regular Baptist Chaplaincy's newest Air National Guard chaplain. He has been assigned to the …
After 32 years of military service, CDR Gerald Hamblin (CHC, USNR) has retired. A retirement ceremony was held at the Bureau of Medicine and Surgery …
Chaplain (MAJ) Michael Crawford, IAARNG has been activated and is serving in Boone, Iowa ministering to Iowa National Guard soldiers who are returning from deployments …
Dr. Ken Alford is the pastor of Family Baptist Fellowship in Graham, Wash., a mission work in our fellowship. He is also serving as a chaplain with …
CDR Tom Webber, CHC, USN, has been assigned to the USS Abraham Lincoln and is due to deploy soon. The Abraham Lincoln, the fifth ship …
Jan. 31 at sunset was the day and time set aside for a vow renewal service for Chaplain (CPT) Mark Worrell and his wife, Shelly. …
CORTLAND, N.Y.—Members of Faith Baptist Church and community volunteers joined the Cortland County Marine Corps League to make Toys for Tots a great success. Individuals, families, …
One hundred fifty messengers representing 22 partnering associations from 10 countries recently converged in Bangkok, Thailand, for the first biennial conference of the International Partnership of …
COLUMBIA, S.C.—Congratulations to Ch (CPT) Jeremiah Cates, who graduated from the Chaplain Basic Officer Leadership Course at the United States Army Chaplain Center and School at …
ANTARCTICA—Chaplain Rick Steen has been leading Christmas Eve and Christmas services for military personnel in Antarctica, where the current "summer" temperature hovers around 16 below …
A Man and His Country. This men's Bible study will help develop a patriotic grid that enables you to differentiate good practices from those that …
Over the weekend of 29-30 Aug 09 Chaplain John Murdoch ministered at the Sovereign Grace Baptist Church Modesto, CA and the Crossroads Baptist Church of …
On behalf of the GARBC, we want to thank all of our Veterans and current Active Duty, Reserve, and National Guard members of every Branch …
On 17-18 Sept 09 Baptist Bible Seminary held its annual Chaplaincy Awareness days in order to bring in front of the College, Graduate School and …
The annual National Boards and Conference of the United States Air Force Auxiliary Civil Air Patrol was held in San Antonio, Texas 2-5 Sept 09. …
The 4th Brigade, 1st Armored Division, to which Ch Mark Worrell is assigned, deployed this spring from Ft Bliss, making their way to Iraq. As …
On 3 April, four Regular Baptist chaplain candidates graduated from Chaplain Basic Officer Leadership Course in Ft Jackson, SC. Pictured from l-r are Brian Jumche, …
Ch, CPT Randy Curry is nearing the end of his assignment at Ft Polk, LA, the site of the Joint Readiness Training Center. Here troops …
CDR Bill Gasser, CHC, USNR is part of the Navy Reserve component, and currently deployed to Kuwait, which is known as "The Gateway" because of …
On 31 October the twenty-seven year active duty military career of Chaplain (COL) & Mrs. James E. May concluded as Ch May retired from the …
ARLINGTON, Va.—Several GARBC chaplains participated in the Veterans Day National Ceremony at Arlington National Cemetery on Nov. 11, an event hosted by the Military Chaplains …
Left to right: CH (CPT) Mike Crawford, TSGT Jacob Getzelman, Senator Daryl Beall, MAJ Todd Essign (Battalion XO), CH (COL) John Murdoch, CAP On 28 …
Commander Tom Webber, CHC, USN is assigned to the 8th District Coast Guard and is stationed in New Orleans, LA. He writes: "Southern LA evacuated …
On 29 September 2008 the United States Air Force Auxiliary, Civil Air Patrol, announced that Chaplain Whit Woodard was named the new Chief of the …
Chaplain (1LT) Mark Worrell graduated from the Army Chaplain School located at Fort Jackson in Columbia, South Carolina on Thursday 4 September 2008.  Mark is …
Christopher and Amanda Anderson Chris Anderson has received his commission as a chaplain with the US Army Reserves and has been assigned to a reserve …
[slideshow_deploy id='1447′]
On December 5th, 2007, eight people were killed in shootings by a young gunman at the Von Maur clothing store in Omaha, NE. Six others …
Cortland, N.Y.—Chaplain Norm Stitzel, a GARBC endorsed lay chaplain and member of Faith Baptist Church of Cortland, New York, received the Meritorious Service Award this …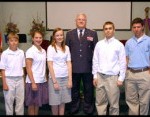 Students at Calvary Christian Academy, Cresaptown, Md., have gathered in an early morning assembly to remember the events of September 11, 2001 and to pray …
On July 5, 2007, Indiana State Police Master Trooper Detective David R. Rich was shot and killed in the line of duty. As one of …
Corps Vets member Dennis Porter is requesting special prayer for the week of July 29. With the support of his pastor, David Miller, of First …
Memorial Day, a great time to reach out to your community and honor local heroes, is May 30. Here are great resources for planning a …
Chaplain John and Hope Murdoch recently completed an endorsing visit to Colorado, connecting with GARBC Chaplain Johnson and his family. Chaplain Johnson, who recently returned …
"Ye shall know the truth, and the truth shall make you free. . . . If the Son therefore shall make you free, ye shall …
Chaplain Jerry Hamblin, CHC, USNR, was assigned for six weeks last fall to the Abraham Lincoln CVN 72 in Bremerton, Washington. The Abraham Lincoln had …
by Pastor Stan Lightfoot III Rustic Hills Baptist Church, Colorado Springs, Colorado Sunday November 12 was "Welcome Home Sunday" at Rustic Hills Baptist Church. We …
On September 21 & 22 Baptist Bible College and Seminary hosted its second annual chaplaincy emphasis weekend. Chaplains, recruiters and endorsers were invited to spend …
Veterans' Day , a great time to reach out to your community and honor local heroes, is November 11. Here are great resources for planning …