Our nation is blessed in so many ways, and on Memorial Day, we remember the blessings that have come through sacrifice, protecting us from oppression and giving us freedom.
When the phone rings at 2:45 a.m., you know it's something momentous. When you're chaplain of your local police department, you know it's bad news.
The Sunday before Veterans Day is an opportunity to honor the veterans in our churches. If you are looking for an appropriate video to add to your service, consider this one.
On this Patriot Day may we go to our knees to beseech God for His mercy, healing, and salvation of our land.
The PrimeTimers of Bible Baptist Church, Kokomo, Ind., express their gratitude and God's love to the civil servants who help keep the community safe.
Congratulations to Chaplain David Boyles, who graduated this spring from the Chaplain Basic Officer Leadership Course at Fort Jackson, S.C. David received his MDiv degree …
This weekend for many is a break from the day-to-day hectic schedule and a chance to get to the lake or the camp site, or …
Chaplain Bill Gasser is a Navy reservist endorsed by the Regular Baptist Chaplaincy Ministries. He is serving at Kandahar Airfield in southern Afghanistan on his …
Chaplain Tom Phelan Sr. retired in July from the Kansas Department of Corrections after 20 years of service as a clinical chaplain.  Tom received the …
Ten mile march with full gear? No problem. Night infiltration course? Bring it on. Scaling a 34-foot obstacle? Watch how I do it. You can …
Congratulations to Chaplain Mark Worrell on his graduation from the U.S. Army Airborne School in Fort Benning, Ga.  Mark said, "That big step was up …
This weekend a grateful nation takes time to remember and give thanks for the sacrifice our men and women in uniform have made for us …
At Fort Bragg in North Carolina, Jeremiah Cates, a chaplain with Regular Baptist Chaplaincy Ministries, is ministering to a unique band of soldiers. He recently …
Congratulations to Maj. Randy Curry on his graduation from the U.S. Army Chaplain Center and School, where he completed the Chaplain Captain Career Course and …
Congratulations to Chaplain Ken Alford on his promotion to lieutenant colonel! When Chaplain Ken Alford deployed with the 364th Expeditionary Sustainment Command in July 2011, …
Lt. Col. Jack Stumme, a Regular Baptist chaplain, recently became the new command chaplain for the Army's 82nd Airborne Division. During the traditional Change of …
Over the weekend of Nov. 11, communities, churches, and civic organizations across our nation will host ceremonies honoring those who have served in the United …
God has allowed Chaplain Jerry Hamblin to have two strong avenues of service interwoven in his life's ministry for God and country, and on Sept. …
Pastor Scott Conner, assistant pastor of West Pines Baptist Church, Greenacres, Fla., is now also a chaplain with the United States Air Force Reserve. Scott …
In his speech at Arlington National Cemetery on May 26, 2003, President George W. Bush said, "On Memorial Day, Americans place flags on military graves, …
In the Ukraine, many older orphans become lost to crime, sex trades, or suicide. But there is hope, says Last Bell Ministries—hope in Christ Jesus. …
Chaplain (Col.) Craig Wiley has retired from the U.S. Army after nearly 43 years of service. In 1969, with the United States in the midst …
Col. James Odell, a chaplain with the United States Army Reserves, has retired after nearly 29 years of service. A retirement ceremony was held on …
Congratulations to Chaplain Jack Stumme on his promotion to lieutenant colonel on Feb. 3. He has recently moved from XVIII Airborne Corps operations chaplain to …
Thomas Brian Webber, a U.S. Navy chaplain, has been promoted to the rank of captain. Rear Adm. Mike Tillotson, a commander with the Navy Expeditionary …
Last summer Shelly Worrell, wife of Chaplain Mark Worrell, decided to make bookmarks from old Christmas cards to send to deployed troops as a reminder …
Col. Thomas W. Phelan has retired after 28 years of chaplaincy with the United States Army Reserve. A retirement ceremony was held Dec. 9 at …
Thirty-six people from New York, Indiana, Illinois, and Canada gathered at Bible Baptist Church, Kokomo, Ind., for the annual Almond Tree Ministry training weekend on …
Today America takes time to remember and be grateful for the men and women who have served in the Armed Forces of the U.S. It …
As part of a weekend honoring military veterans, First Baptist Church, Fenton, Mich., held its second annual Military Vehicle Show. Pastor Joshua Gates invited Chaplain …
The long war in Iraq and Afghanistan and frequent deployments to the war zone have placed especially heavy pressure on military personnel and their families. …
Sept. 25 was more than a beautiful fall Sunday in central Pennsylvania. Calvary Baptist Church of Jersey Shore was walking through this Sunday with mixed …
The weekend had begun like so many ministry trip weekends. After ministering in Minnesota, Hope and I flew to the Philadelphia Airport and headed to …
After completing 23 years and three months of service, Chaplain (Col.) Istvan "Steve" Szasz retired from the Army Reserve on July 31. Chaplain Szasz was …
GARBC chaplains in the Washington, D.C., area have been meeting quarterly to pray for one another's ministry, encourage each other in the faith, and fellowship …
After completing a tour in Iraq with a cavalry unit from Fort Bliss, Texas, Army Chaplain Mark Worrell has a new assignment with a unit …
Haddon Heights Baptist Church, Haddon Heights, N.J., held a commissioning service for Pastor Derek Mosher on Dec. 12. Pastor Mosher has been accessed to the Army chaplaincy …
On a visit with Chaplain Jack Stumme at Ft. Bragg, N.C., Chaplain John Murdoch had the opportunity to participate in a tandem jump with the …
Chaplain (Colonel) Tom Phelan, a Regular Baptist chaplain, ministered to mobilized Soldiers of the Texas National Guard 72nd Infantry Brigade Combat Team as they deployed …
About two hours northwest of Chicago, between Madison and Milwaukee, lies a secluded, wooded retreat known as Cedarly. Directed by retired GARBC Chaplain Andy Hagen and …
"Have you ever had something that you were so devoted to that you would be willing to die for it?" Army Chaplain Dale Goetz did. …
The newest Regular Baptist lay chaplain is Lt. Craig Duck of the Washington DC Fire Department. Craig is the Lieutenant of Engine Company 11 and …
Chaplain Dan Butler retired from ministry with the Arizona National Guard after 24 years of service. Butler was the Joint Forces chaplain for the state of …
Chaplain John Murdoch had the honor of being the presiding official at the retirement ceremony and worship service for Chaplain Maj. Kevin G. Browne, USAF. The …
Ronald Faith, pastor of Evangel Baptist Church, Hagerstown, Md., is the Regular Baptist Chaplaincy's newest Air National Guard chaplain. He has been assigned to the …
After 32 years of military service, CDR Gerald Hamblin (CHC, USNR) has retired. A retirement ceremony was held at the Bureau of Medicine and Surgery …
Chaplain (MAJ) Michael Crawford, IAARNG has been activated and is serving in Boone, Iowa ministering to Iowa National Guard soldiers who are returning from deployments …
Dr. Ken Alford is the pastor of Family Baptist Fellowship in Graham, Wash., a mission work in our fellowship. He is also serving as a chaplain with …
CDR Tom Webber, CHC, USN, has been assigned to the USS Abraham Lincoln and is due to deploy soon. The Abraham Lincoln, the fifth ship …
Jan. 31 at sunset was the day and time set aside for a vow renewal service for Chaplain (CPT) Mark Worrell and his wife, Shelly. …
CORTLAND, N.Y.—Members of Faith Baptist Church and community volunteers joined the Cortland County Marine Corps League to make Toys for Tots a great success. Individuals, families, …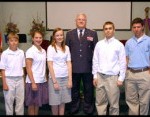 Students at Calvary Christian Academy, Cresaptown, Md., have gathered in an early morning assembly to remember the events of September 11, 2001 and to pray …
On July 5, 2007, Indiana State Police Master Trooper Detective David R. Rich was shot and killed in the line of duty. As one of …
by Pastor Stan Lightfoot III Rustic Hills Baptist Church, Colorado Springs, Colorado Sunday November 12 was "Welcome Home Sunday" at Rustic Hills Baptist Church. We …
On September 21 & 22 Baptist Bible College and Seminary hosted its second annual chaplaincy emphasis weekend. Chaplains, recruiters and endorsers were invited to spend …
Ft. Bliss, TX, has the distinction of being one of the Army's main mobilization centers for reservists. No doubt some of the reservists you have …